An armour made out of endium!
It doesn't offer you anything with regards to protection, but it will give you incredible abilities!
CAREFUL!
If you touch water/rain while using the armour, you and your armour will take alot of damage!
Helmet:
Gives you a night vision effect.
Chestplate:
Makes you immune to any sort of fire damage.
Leggings:
You'll run and jump much faster!
(Note: The jump height increase will only apply when sprinting.)
Boots:
No fall damage whatsoever.
Helmet: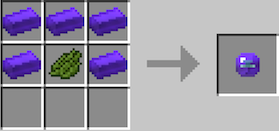 Chestplate:
Leggings:
Boots:
All recipes above require:
Green Cactus Dye
Ad blocker interference detected!
Wikia is a free-to-use site that makes money from advertising. We have a modified experience for viewers using ad blockers

Wikia is not accessible if you've made further modifications. Remove the custom ad blocker rule(s) and the page will load as expected.