The ender furnace makes items when you put recipes in it and fuel it. Different items that you use will have different fuel
levels. 
Fuel that you can use: Ender Pearls, Ender Pearl blocks, Eyes of ender, Endstone and ender flowers. 
Recipe is End Stone around an Eye of Ender.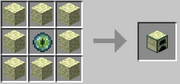 If you have NEI installed you can click the arrow in the GUI to see what the furnace can do!
Here's some of the recipes you can do: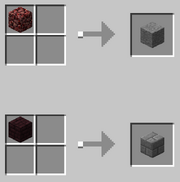 Ad blocker interference detected!
Wikia is a free-to-use site that makes money from advertising. We have a modified experience for viewers using ad blockers

Wikia is not accessible if you've made further modifications. Remove the custom ad blocker rule(s) and the page will load as expected.